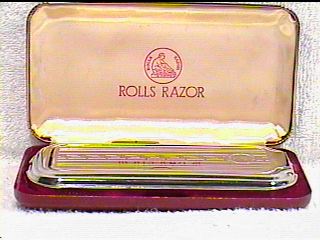 Viscount Model Rolls razor in simulated leather case (circa 1950s).
---
It seems that no one could bear to throw away a Rolls Razor. That must be why there are so many of these British made safety razors still around. There were 25 for sale on the eBay auction the last time we checked. These razors are sometimes described as made by the Rolls-Royce company. Not so, but the name was undoubtedly chosen to evoke the "Rolls" image of luxury and quality.

The Rolls "The Whetter" trademark was registered in the U.S. in 1950; the first use was 1916. The U.S. patent for the method of attaching the blade to the handle was filed in 1925 and issued in 1930. The name "Rolls Razor (1927) Ltd." was used in advertising. The razor was still manufactured and sold in the 1950s. Several models have been made. Pre-1930 and gold plated models seem to be the rarest. Older razors do not have a Greek key pattern on the case. The nickel plated Imperial No. 2 is the most common.

---
How Old is My Rolls Razor?
Most razors have a serial number on the side of the metal case or on the end/side of the stropping mechanism operating handle. If anyone has a key that relates this number to the date of manufacture, please share it with us. Patent dates don't help much. Thirteen British patents were issued between 1917 and 1950 and eight U.S. patents were issued in 1918-1951.
The first model dates to 1916 and does not have a design on the metal case or push buttons. The plain case silver plated model pictured at far left has serial number 0001016. Mr. Vincent, who applied for the first Rolls patent in 1916, should get credit as the creator of the Rolls razor. The later three models (Standard and Popular Models) date to 1922 and have various designs on the metal case as pictured and came in leatherette cases. These models are smaller than the later models: about 2-1/2 x 5-5/8 inches. The address on the first box is, 1 Charing Cross, Trafalgar Square, LONDON, S.W.1.

The later Imperial Models 1 (Silver), 2 (Nickel), 3 (Stainless), and Gold have a 3-row Greek key design and with the "The Whetter" trademark near the end of the case. These cases measure 2-3/4 x 6 inches. The factory address was 255 Cricklewood Broadway, London, N.W. 2, with showrooms located at 197a, Regent St., London, W.1. A U.S. importer was Lee & Schiffer, East 44th St., New York City. By 1937 the U.S. distributor was Rolls Razor, Inc., 305 East 45th St., New York.

The Viscount Model is shown in the photo at the top of the page. It was manufactured after WW2 and was sold in the U.S. by Rolls Razor, Inc. U.S.A., 338-342 Madison Avenue, New York 17, N.Y. The Viscount case design has a single Greek key row. The corners of the case are more rounded (about a 5/8-inch radius) than previous Rolls. The case dimensions are 2-7/8 x 6-1/4 inches. Both the Imperial and Viscount Models had an aluminum case version.

By 1951 Rolls was also advertising the VICEROY Electric Dry shaver, or, the ad said, if you have "no electricity ... ask for the VICEROY non-electric mechanical dry shaver ... Press the lever and shave!" The mechanical version was operated by repeatedly squeezing a lever on the handle.

The Rolls razor was successful enough that it had a similar British competitor, The Darwin, made by Darwins Ltd. (or Darwin, Ltd.; both spellings were used), Fitzwilliam Works, Sheffield, England. U.S. patents were filed in 1933 and issued in 1935. A British patent was issued in 1934. The Darwin case is longer and narrower than the Rolls. Darwin models include "Universal" and "De Luxe."

---
Rolls Razor Models Listed in January 1937 Catalog and 1932 Advertisement

MODEL

DESCRIPTION

1932
Price

1938
Price

Imperial "No. 1"

Silver-plated, telescopic shaving handle.
In mottled (pebble grain) blue hinged case.

$15

£1.7.6

Imperial "No. 2"

Nickel-plated, solid shaving handle.
In orange & black cardboard box.

$10

£1.1.0

Imperial "No. 3"

Stainless steel. Spare blade.
In mottled (pebble grain) dark brown hinged case.

$20

£1.17.6

De Luxe "A"

Stainless steel razor, containers for shaving soap, shaving brush and toilet soap. In mottled (pebble grain) blue case with flip-open top and front.

£2.0.0

De Luxe "B"

Gold-plated razor in hinged tan leather case.

£2.2.0

De Luxe "C"

Gold-plated razor and two spare blades.
In tan hinged leather case.

$30

£3.3.0

De Luxe "D"

Gold-plated razor and six spare blades (actually a seven-blade set). In suede-lined grained ("alligator" pattern) brown leather case.

$50

£5.15.6

De Luxe "E"

Traveler's Model. Stainless steel razor and two spare blades and shaving mirror in lid of a grained leather case.

$30

£3.3.0

De Luxe "F"

Colonial Model. No. 2 razor. Spare blade, strop and hone and shaving handle and friction assembly. In grained leather case.

£2.10.0

De Luxe "G"

Stainless steel razor, two spare blades, badger shaving brush in container, and shaving soap bowl. In leather case.

£4.4.0

"Compact" Set

No. 2 razor, badger and hair mixture shaving brush and shaving soap bowl. In decorative hinged cardboard box, brown with leather-like appearance.

£1.10.0

Blades

Single blade in a nickel-plated case. Three blades or six blades (each in metal case) in a pebble-grain blue hinged rectangular case.

3- £1.0.0
6- £1.18.6

De Luxe Kit (1932)

Silver-plated razor, two spare blades, shaving soap and brush. In hinged "English pigskin" case.

$45

not listed
---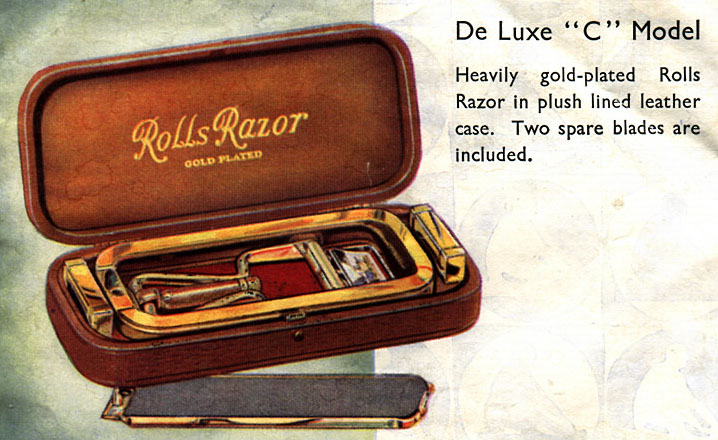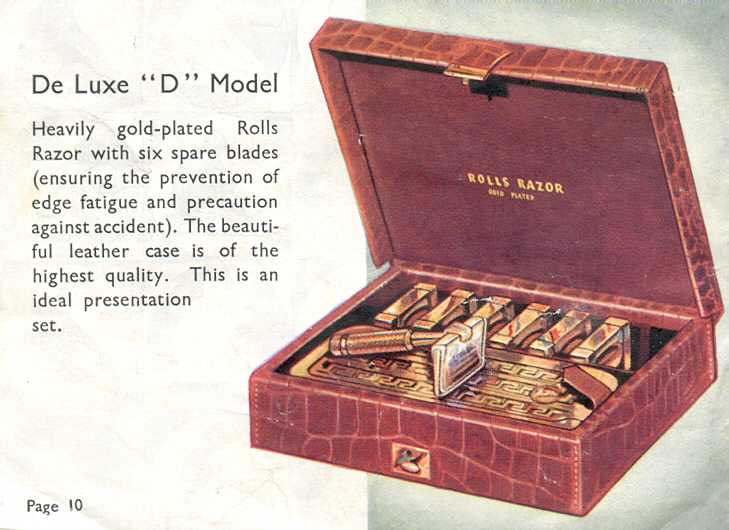 De Luxe gold-plated razor sets - 1937 Catalog
---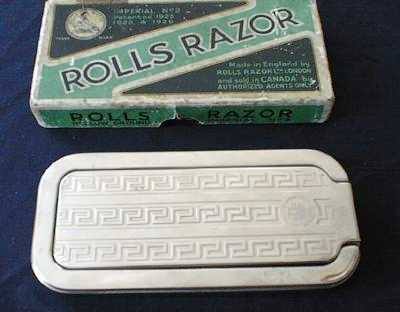 Imperial No. 2 Model
---

What is My Rolls Worth?
Rolls razors are quite common. Any large antique mall will have several; we have seen some that were astoundingly overpriced. To a collector, the postwar 1940s and '50s razors in new or nearly-new condition with case, instructions, inspection slip, etc., are only worth about what they sold for new at retail. Pre-war 1930s razors could bring more. A broken or cracked hone (quite common), a cut strop (common) or very worn strop (less common, since the user soon gave it up as a bad job and put the razor in a drawer) all reduce the value to near zero.

Most often found is the Imperial No. 2 Model (above), which came in hinged cardboard boxes of various colors and originally sold for $10 in the U.S. and about £1 in England. The red-orange box is probably the oldest, circa 1930s; the blue or green boxes are newer. Pre-1930 razors, and the more expensive gold- and silver-plated razor sets are harder to find since there were fewer of them sold. Any Rolls razor without a Greek key design is a rarer "early" razor. In prime, unused condition, gold- or silver-plated sets could be worth twice what they sold for at retail. For some reason, complete, "mint" aluminum Rolls Viscounts have sold for $30 to $50, probably because they are very attractively cased.

Keep in mind that any sale price is what a buyer and seller agree upon, and one or both may be uninformed.


---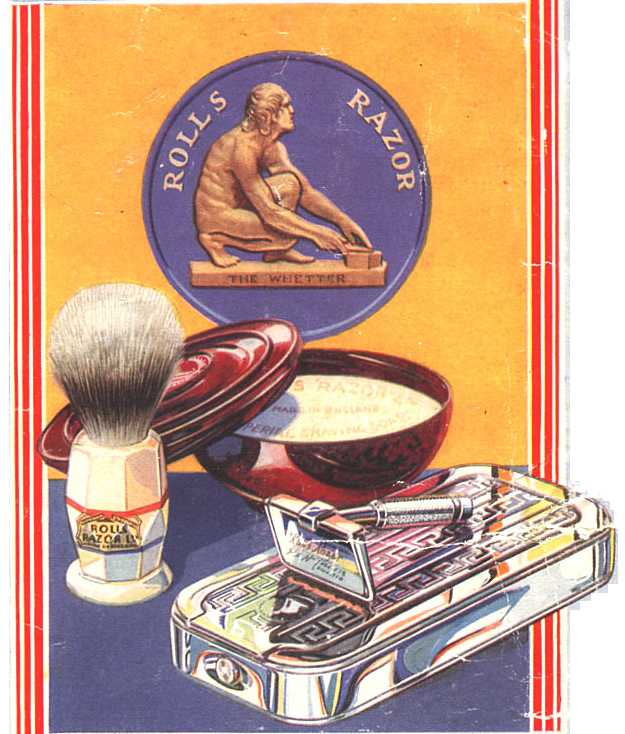 Illustration from 1937 Catalog
---
How Do You Work This Thing?
"Care of the Rolls Razor" An excerpt from Rolls instruction sheet.

"Instructions for Using the Rolls Razor" Official Rolls Razor instructions, circa 1937.

---
Copyright © 1999, 2010 Robert K. Waits email: Bladeguard[at]gmail.com
This web page was orginally at www.safetyrazors.net, now a "ghost" site.