The Kampfe brothers, Frederick (c.1851-1915), Richard (1853-1906), and Otto F. (1855-1932) were born in Saxony in eastern Germany. The two youngest brothers, Richard and Otto, immigrated to the United States in 1872, soon after the end of the Franco-Prussian wars. At the time they were 19 and 17 years old, and most likely had served several years as apprentice cutlers in Germany. It is probable that their older brother, Frederick, had already come to the U.S. In any event, they settled in New York City and started a cutlery business. Considering their business success and place in safety razor history,

I have unearthed very little about the Kampfes and their enterprise,

other than patents and a few census records

. Perhaps more information will eventually surface on the internet.

In May 1880 Frederick and Otto applied for a patent on "new and useful Improvements in Safety-Razors." This is the first use of the term "safety razor" that I have discovered. Trademarks filed in 1903 claimed use of the Star name and symbol since 1 June 1880. Histories written by the American Safety Razor Co. (which acquired the Kampfe business c.1919) have said the Kampfe Brothers began manufacturing the Star safety razor in 1875 "in a one-room shop in New York City." By 1899 they occupied space at 8-10-12 Reade St. A 1911 Kampfe advertisement stated: "The Star … has been made and used for thirty-six years. We were expert cutlery manufacturers before we invented the safety razor." This also implies the razor was first made in 1875.

(Some collectors have noted that the early Kampfe safety razors had an 1875 date near or on the top portion of the handle.)





The Star used Henson's idea of a hoe-type razor with a wedge-shaped blade, basically a short segment

(

4 cm long by 2 cm wide)

of a straight razor blade.

The blade was held in place by metal clips and did not require a tapped screw hole.

A distinguishing feature was the shape of the razor frame or casing, which functioned as a "lather-catcher." The razor was less expensive to make than some of complex hoe designs subsequently patented by competitors.




Many cutlers produced blades for the Kampfe and similar razors.
A Kampfe blade is top center. eBay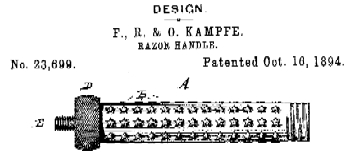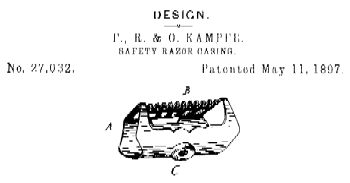 The 1880 utility patent expired in 1897. In order to extend patent coverage, Frederick, Richard, and Otto Kampfe received a 7-year design patent for the tubular handle with a star pattern (1894) and a 14-year design patent for the lather catcher razor casing (1897).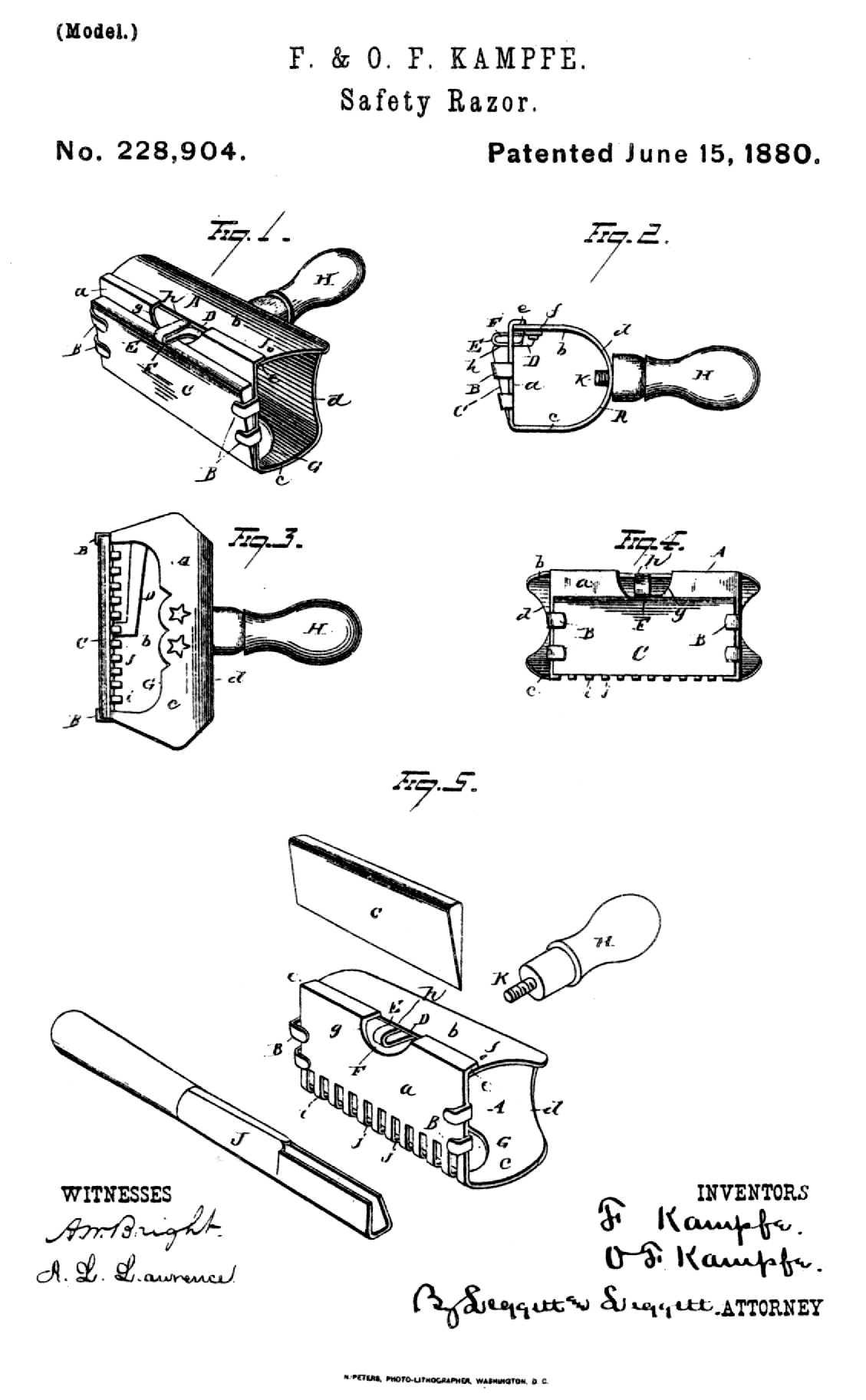 First Kampfe safety razor patent.

15 June 1880, Frederick and Otto F. Kampfe.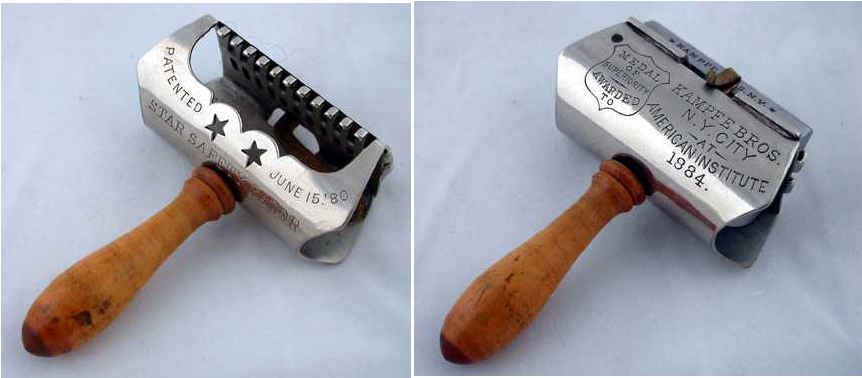 Circa 1884 Kampfe razor.

Courtesy of Jerry Rosenthal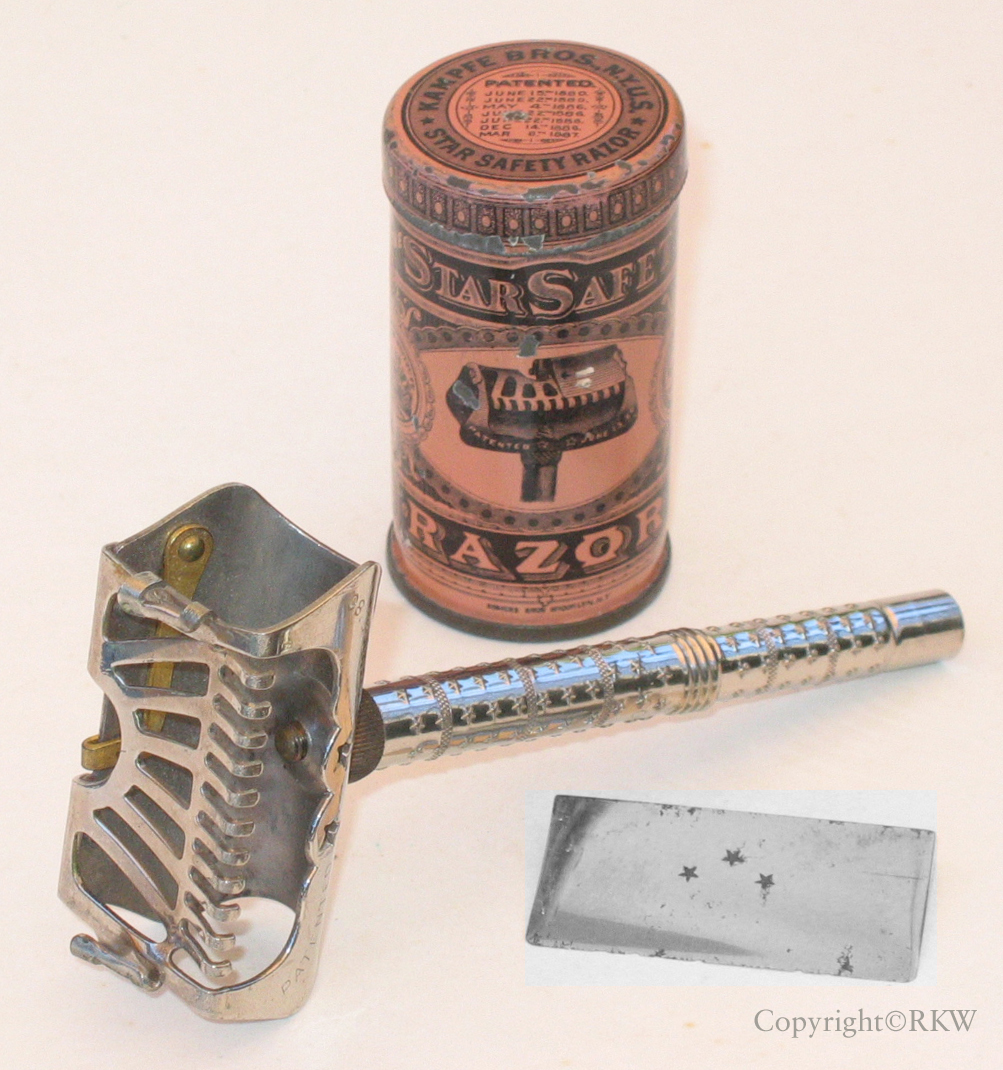 Circa 1887 Kampfe razor, blade, and tin.
Early Kampfe razors were packaged in round and rectangular lithographed tins in a variety of label designs.